Fishing Methods

We offer many types of methods giving you many options or allowing you the challenge of learning a new technique.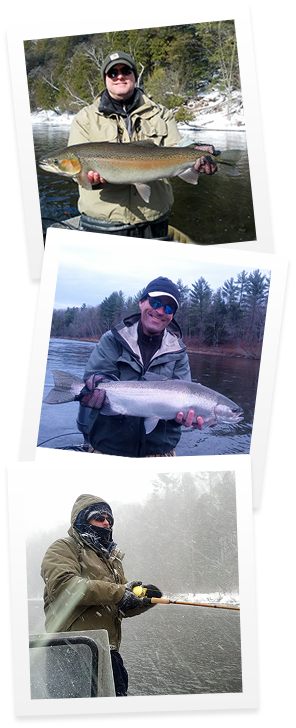 FLY FISHING
Fly anglers are offered several options – the ever popular "Chuck and Duck" method, which employs a thin diameter running line a weight and most often a tandem dropper fly rig. This rig is a very effective method for pursuing fish in larger rivers that typically hold on or near the bottom. We generally use 7-8 wt. rods for steelhead and 9-10 wt. rods for salmon. Both configurations are outfitted with high quality fly reels loaded with a thin running line.
•

Steelhead and Salmon techniques

Floating line/indicator nymphing:
This is a great method for smaller rivers where the fish are spooky and generally hold in less than 6 feet of water. This method is effective when sight fishing to fish holding in shallow water; allowing you the option of placing your fly right in front of a resting fish. Generally 8-9 wt. rods are used for this technique. Reels are generally over-lined with a heavier weight floating line, tapered leader, indicator, shot and flies.
•

Trout and Smallmouth Bass

Fly casting:
We love to teach new anglers the art of fly casting! Summer is the time to accomplish this! We offer several types of methods of trout and smallmouth bass fishing techniques.

Floating lines:
The most common fly fishing technique: Light rods, light floating lines, tapered leaders, small flies, and rising trout. We generally fish from the boat as we try to target likely places and rising fish. We will also, at times, rig an indicator and small weighted flies on a floating line and probe the depths. Most people do not know that 90% of a trout's diet is below the surface. This can also be done while wading. Fly rods are generally 4-6 wt. and light reels holding your floating line.

Sinking lines:
These are generally used when we are trying to mimic small bait-fish patterns while floating the river. You will cast to the banks and structure while ripping your fly through the water. This presentation cause awesome, aggressive strikes! Fly rod are generally 5-7 wt. and reels are loaded with either full sinking lines or sink tips.
SPIN FISHING
Steelhead
Long rods light lines and silver bullets!
One of our favorite techniques hands down. Fresh run steelhead, long rods, light lines and very hot fish. An early fall through spring method. Picture a small bobber drifting down the river when a 10 lb. chrome steelhead snatches your offering and jerks the float under, your rod snaps back and all you see is a silver explosion and it's off to the races. Long rods up to 13′ with high quality spinning reels ready to do battle with one of the fastest fish in the sea.
Salmon
Early season salmon in the lower ends of the rivers. Nothing can prepare you for the strike of a mature king salmon smashing your offering and then trying to retreat to cover as fast as he can!!! These strikes are HEART stoppers!! We generally float and cast toward structure or anchor and cast into the pools these early giants are holding in. We use medium action spinning rods with high quality spinning reels with drags that will stop a runaway bull. No-Stretch lines and several types of baits will get these fish going. Most definitely a must try!!!!
Trout and Smallmouth Bass
A total blast for beginners, adults and kids alike. Small, light rods with tiny baits are cast toward banks and cover. Into the places the fish love to lie in waiting for your offering. Ultra-light rods and reels loaded with light lines a total blast.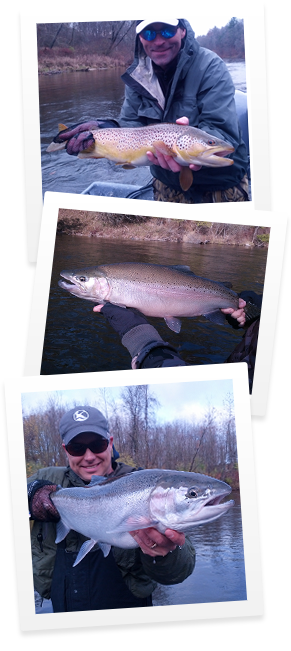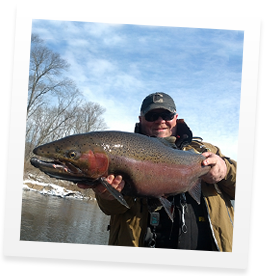 HOT SHOTTING
Steelhead
Plugging, back dropping or hot shotting…all mean the same thing, SMASHING STRIKES! Lines are rigged with diving baits then sent downstream behind the boat, 4-6 lines working below the boat, teasing tantalizing and aggravating Mr. Steelhead. Strikes are almost always explosive. I will position the boat and lures into the right places giving us the best chance to connect with our adversary.
Lake Michigan Charters
Hattrick Charters – Sport fishing on Lake Michigan for Steelhead, Salmon, Brown, and Lake trout.
Come fish out of the wonderful port of Ludington, MI with me aboard the "HATTRICK" A fully furnished and equipped 31′ Tiara Yacht, designed to catch fish period. (Yes the boat has an enclosed full size bathroom) Bring your family, friends, or corporate group for a day or two of fishing aboard the Hattrick. Sport fishing or "trolling" is a great way get away on the water and just relax…let me do all the work…setting rods, netting your catch, baiting the rods…or you can get as involved as you want on the boat. Would you like to help set rods? Net fish? Pick out the hot lures? That's all possible on the "Hattrick".
With this type of fishing multiple lines are set out in a trolling pattern behind the boat on various pieces of tackle designed to place the lures at different depths and areas out away from the boat. Sometimes trolling up to 18 rods at the same time. Doubles, triples and even quadruples are possible fishing this way. No experience is necessary. At the trips end I will professionally fillet and bag the days catch free of charge.