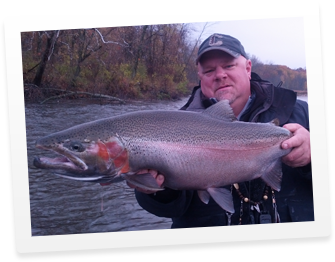 "Capt. Jon Kolehouse with nice Steelie"
Give me a call with questions or to book your fishing adventure.
352 W. Washington Street
Newaygo, MI 49337
231-250-9745 or
Send a Message
About Capt. Jon
Born in 1972, I began fishing at a very young age. I grew up with a family that loved to fish and I was "seriously infected with the bug". By the age of 7 I was fly fishing, and by the age of 10, I had already landed my first steelhead on the fly. From middle school through high school, I found myself splitting my time between fishing and hockey. At the age of 17, I purchased my first drift boat and began floating the rivers, meeting several of the guides that I am friends with to this day. This freedom quickly led me to explore other rivers, most of them in the west, near the Rocky Mountain states. I had spent several summers fishing in the west and even guided for one summer in Vail Colorado.
Shortly after graduation, I had decided to take a break from hockey and become a true river rat. By the age of 19, I was licensed and permitted by the USFS to operate a commercial guiding business on the Pere Marquette river. At that time, I believe I was the youngest guide in the area. I had worked part-time independently with other guides until I took a full-time guiding position at the then named "Johnson's Pere Marquette Lodge" in Baldwin, Michigan. I stayed with the Orvis Lodge for over 10 years and through 2 owners till the spring of 2004, when I made the decision to go out on my own and once again, become an independent guide.
In the late '90s, I was reintroduced into fishing the open waters of the Great Lakes, having fished them in my younger years with friends and family. I was quickly drawn back into the mystery of catching huge fish in such vast, wide-open waters. I purchased a 22′ trailerable boat in the late '90s, and my big lake fishing addiction began once again. Like a sponge, I soaked up all I could about fishing the Great Lakes, and in the spring of 2001, I had decided to take the next step in my business as a professional fisherman and guide and took the steps necessary to obtain my USCG Captain's License. After obtaining my license, I purchased my first big water boat. It was a 28′ Baha Cruisers and was set up to be a fish catching machine. It was then that I launched my career as a Great Lakes Charter Captain. Ten years later, I purchased my second boat for my charter business. It was a bit larger boat that is considered by many to be the elite charter boat, a 31′ Tiara Yacht. It's been over ten years now, and every spring, I can't wait to launch the big boat and begin the hunt for the huge fish on the Great Lakes. Watching people catch the fish of their dreams is what I love the most about what I do… seeing those smiles never gets old.
I have made guiding my full-time career since 1992, and this is the lifestyle that I have come to love. Most people will agree that I have got one of the best office views one could ever wish for.
Through all my years of guiding, I have learned many rivers, styles, and techniques in the pursuit of the many different fish in our rivers and lakes. I do not feel that there is ever the "best way" or the "only way" to pursue a fish. I believe in being adaptive and fishing with an open mind. I like utilizing the method(s) that will put my clients that much closer to the next hookup.